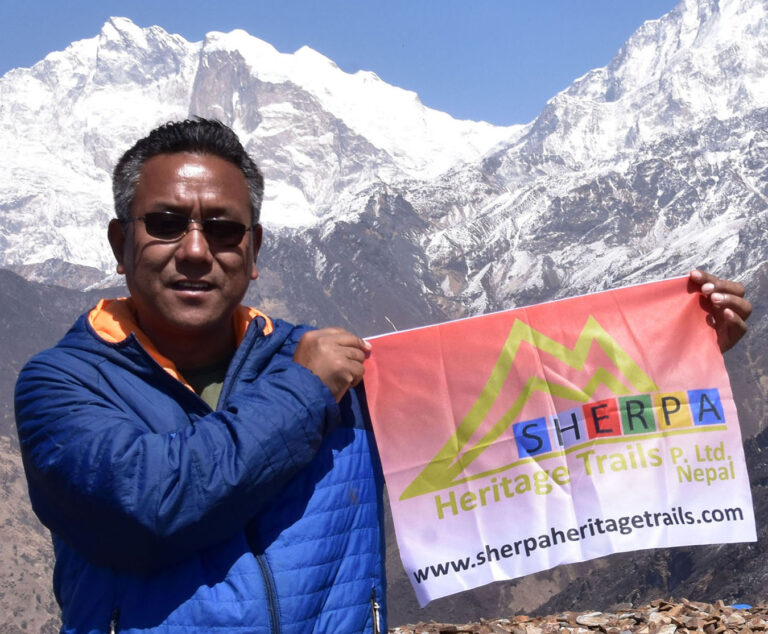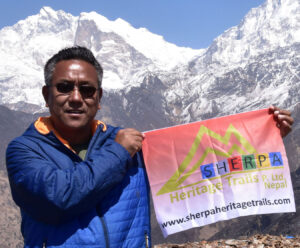 Gomba Sherpa:
Founder and Managing director
My family roots are in Solukhumbu, the Everest region. My career in the trekking business started when I was very young. First as a porter, and over the years I became Sirdar. I am a fully licensed trekking & expedition guide since 1990. Since 1990 I have done camp- and tea house trekking all over Nepal. I climbed Himalchuli (7893m) being one of the leading climbing Sherpa's of the expedition. Over the years I led countless expeditions to trekking peaks in Nepal. The most famous peaks are Island Peak (6189m), Mera Peak (6476m), Lobuche East Peak (6119m), Chulu West Peak (6419m), Pisang Peak (6091m) and Thorung Peak (6144m). I have been trekking & climbing with clients from Jagged Globe (UK), TUI Travel (Germany & The Netherlands), Snowleopard Adventures (The Netherlands), Hauser Exkursionen (Germany), DAV-summit club (Germany) and World Challenge (International).
I have led trips to all corners of The Himalayas with generous humour, reliability, flexibility and safety. I love to show you the beautiful Himalayas and walk on the mountain paths to enjoy the panoramic views. During your stay, I would like to share my Nepali culture with you.
When I am not trekking I like to help the local community. In the Sherpa community, I help people to perform our traditional Sherpa culture and rituals for various personal occasions.
For the Tashi Delek foundation, I am the volunteer manager in Nepal. With the foundation, we support our local farmer community in the Solukhumbu. The main focus is agricultural knowledge and water efficiency. The main goal is to make the local community self-sufficient so that they will no longer be dependent on external financial aid.
I speak English, Sherpa, Hindi, and a few words German and Dutch.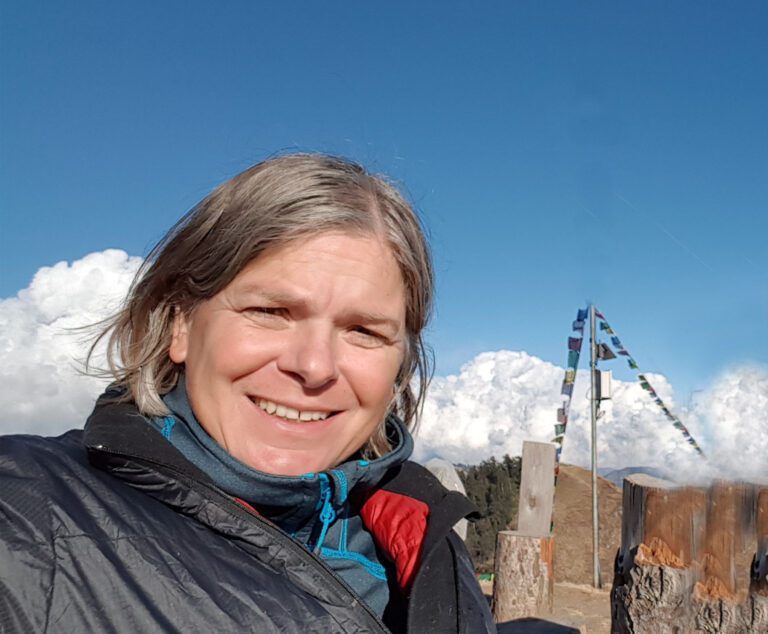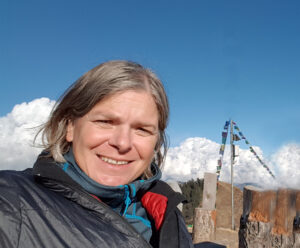 Sonja Korevaar:
Co-founder and contact Europe
I visited Nepal for the first time in 2003. Since then I have visited the Himalayas country quite some times. After each trip, there is a heartfelt desire to return to this beautiful country with the highest mountain peaks and its fascinating culture. In 2019 I started with hiking the Upper Great Himalaya Trail in Nepal. Of course, with the great help of Gomba Sherpa.
In Europe, I started as a hiking guide in 2006. After a few years, I was officially a licensed and certified guide. Since 2006 I have been guiding tours all over Europe, but mainly in The Alps and the Spanish Sierra Nevada.
I have completed classes about tourism and completed a program on Sustainable Tourism.
For Sherpa Heritage Trails I have worked on the web design and I am maintaining the website. Further, you can always connect to me for info or a talk about travel to Nepal.
I speak English, German and Spanish.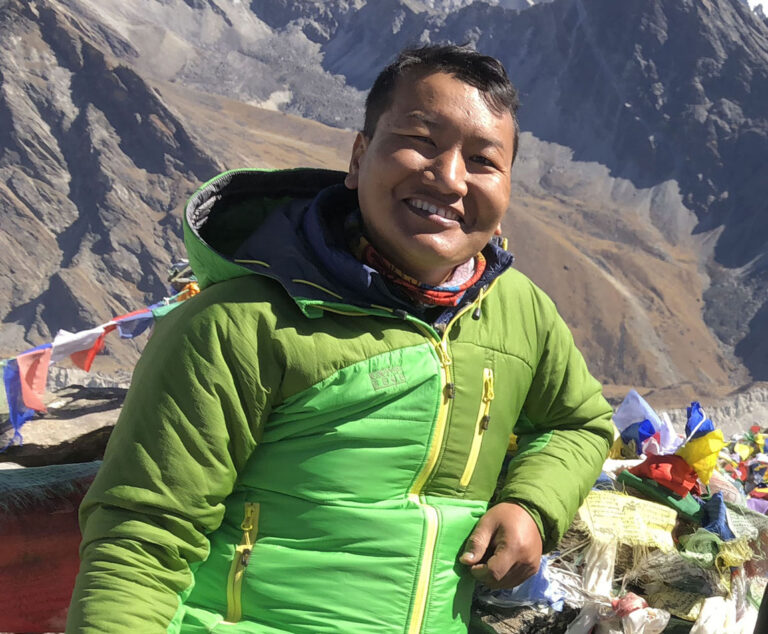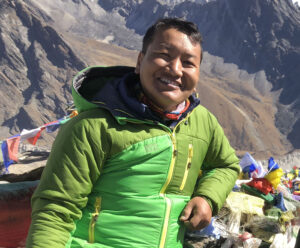 Dawa Sherpa: Climbing and Trekking guide
Dawa was born in the Solukhumbu. Already at a young age, he had aspirations to become a trekking and climbing guide. It was soon obvious Dawa has a talent for climbing. At a young age, he had already climbed famous trekking peaks Mera Peak, Island Peak, Lobuche Peak, Pokalde Peak, Saribung and Yala Peak. In the past years, he has climbed Mount Everest, Lhotse and Ama Dablam.
He has an open and social attitude towards others. That is why he is sharing his high-level expertise and skills with other aspiring Nepali climbers and guides. He is a valued instructor at the Nepal Himalayan Training Centre.
Dawa has completed all mountaineering and rock climbing training and courses in Nepal and is now developing his mountaineering skills with Western courses to become a professional World Mountain guide. Of course, he is also an experienced trekking guide who has done quite some trekkings in all regions of Nepal. Dawa has travelled several times to various European countries.
He speaks English, French and Hindi.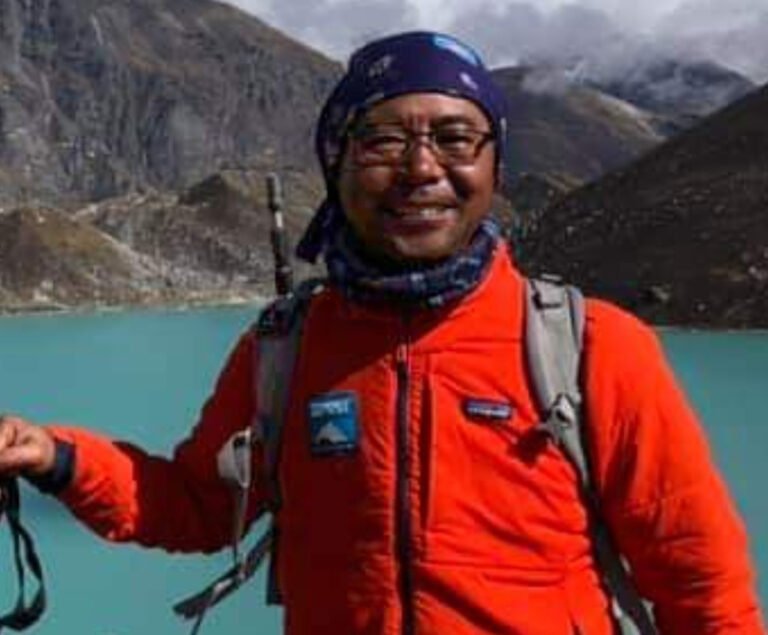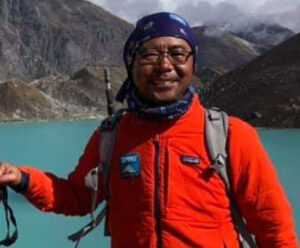 Jangbu Sherpa: Trekking guide
Jangbu was born in Solukhumbu. He started his career as a porter and over the years he has become an experienced trekking guide. Jangbu has visited all regions of Nepal multiple times. His experience extends to remote regions of Dolpo, Kanchenjunga, Manaslu and Makalu. He speaks German very well. Due to his extended experience and language skills, Jangbu is a valued guide for the DAV ( Deutscher Alpenverein). Every year he returns to the Swiss alps to work in the mountain huts; keeping up his skills and knowledge of the German language and Western culture.
Jangbu speaks German and English.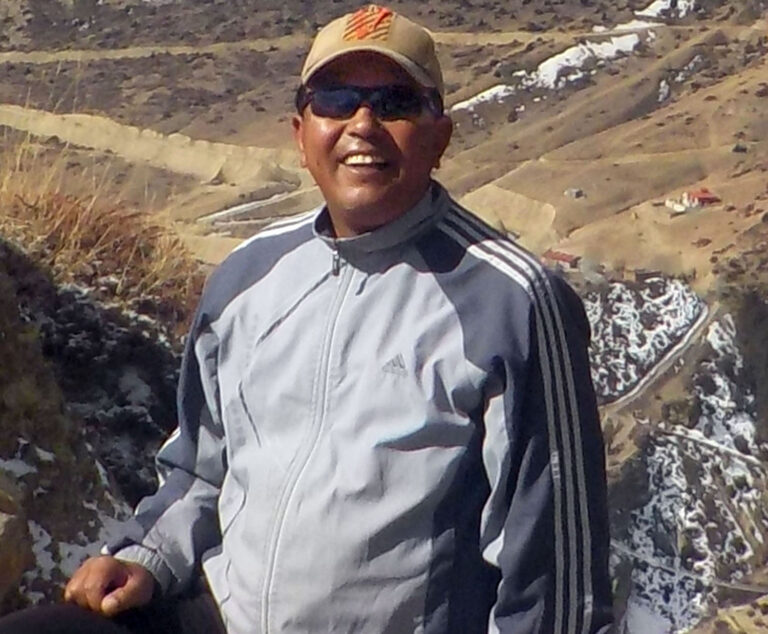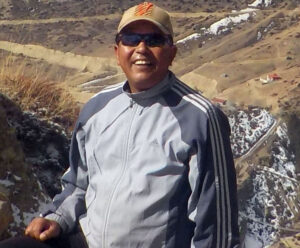 Ang Dawa Sherpa: Trekking guide
Ang Dawa has years of experience in trekking and peak climbing in Nepal. Over the years he has become a specialist in the remote Buddhist regions like Mustang, Tsum and Dolpo. During the trek in these regions, he loves to share information about the local culture and Buddism. Dawa has been to Mustang so many times, that he even speaks the local language. Locals know him very well and respect him so much they grant him access to remote and closed monasteries.
Ang Dawa speaks English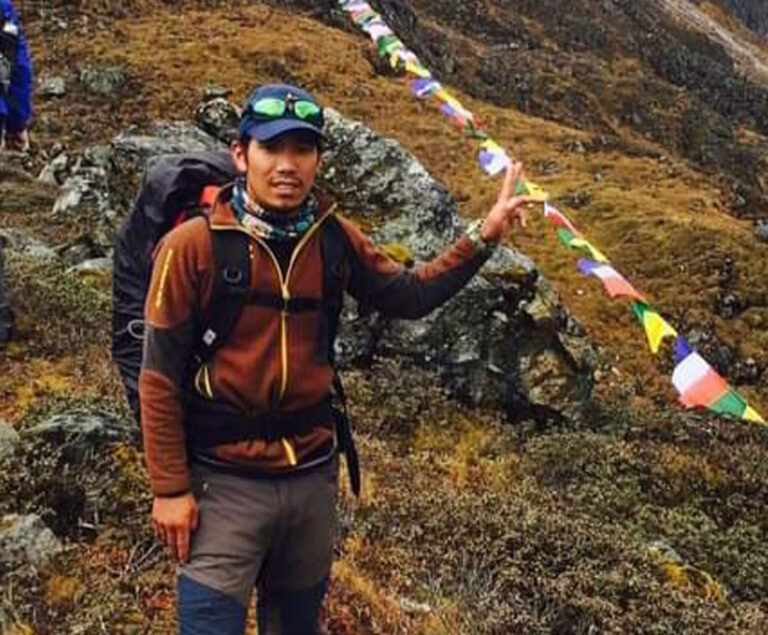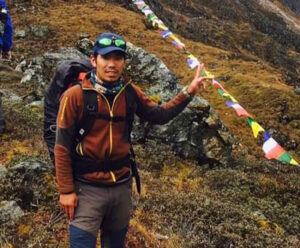 Lhakpa Sherpa : Trekking and Climbing guide
Lhakpa comes from the Lower Everest region. He started his career as a porter, and within several years he became a reliable trekking and climbing guide. Clients appreciate his calm leadership and his enthusiasm to share local culture.
Over the years he has led climbers to Mera Peak, Island Peak and Yala Peak.
But most times you will find Lhakpa on the trekking trails. He knows all the trails in the Everest and Annapurna regions. Some of his off beaten trekking experiences are in Makalu, Langtang, Upper Mustang and the Kharta valley in Tibet.
Lhakpa speaks English.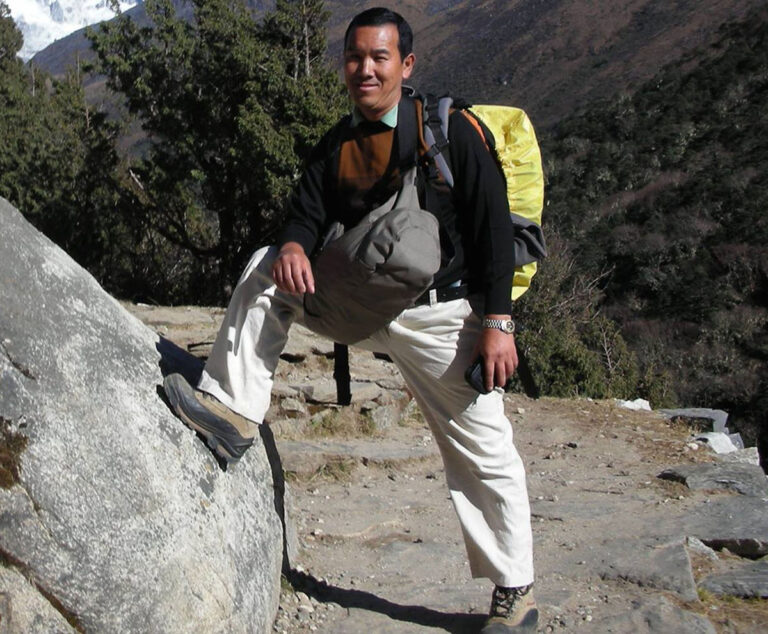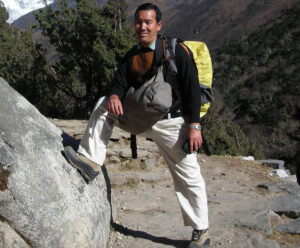 Ang Kaji Sherpa: Trekking guide
Ang Kaji also originates from the Solukhumbu. His experience in the trekking business is impressive. With over 20 years in the trekking business, Ang Kaji is one of the experienced trekking guides. In his trekking guide career, he has been all over Nepal. Ang Kaji loves to share his culture with you. He is a valuable and professional team member of Sherpa Heritage Trails.
Ang Kaji speaks English.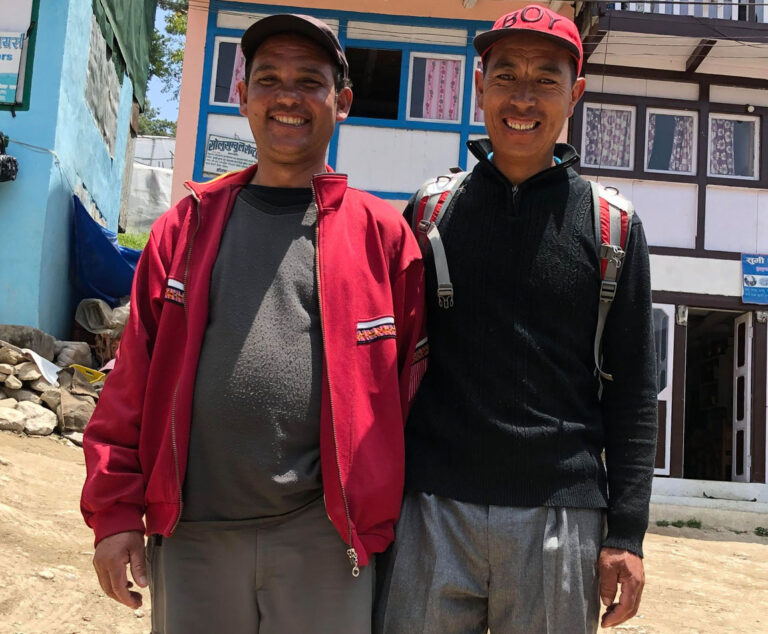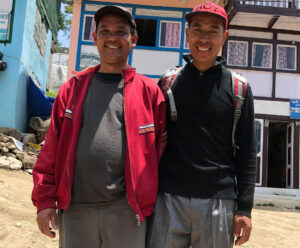 "Double D" : Porters
DB and Dawa are everyone's favorite porters during trek in the Everest region. Always cheerful, and supporting to our clients. In the basic teahouses of the Lower Everest region they both can cook you an excellent and tasty meal.
DB and Dawa both speak English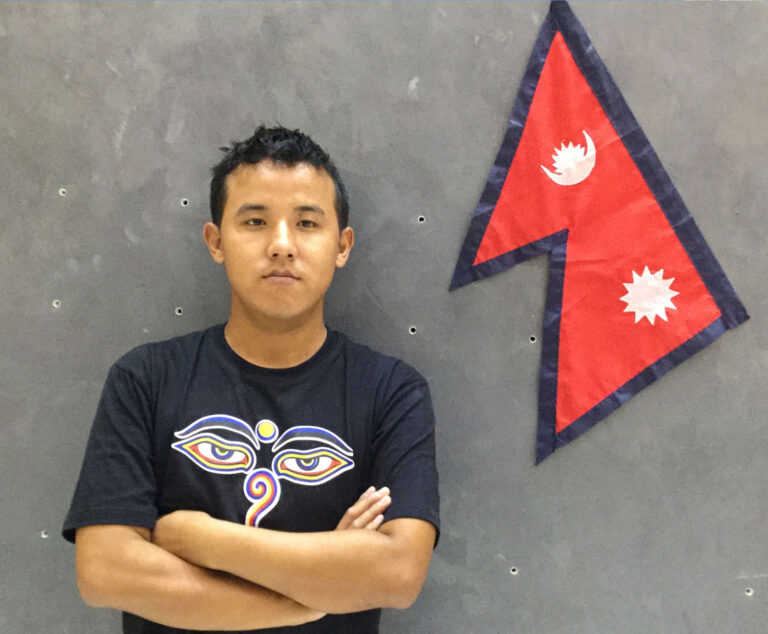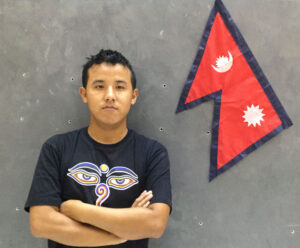 Chhiring Sherpa: Trekking guide
Chhiring was born in the Solukhumbu but lived most of his childhood in the middle of the Annapurna. So it is no surprise he knows all treks in Annapurna and Mustang region. He lived and worked abroad for several years, giving him excellent language skills and knowledge about Western culture.
Chhiring is always cheerful and ready to hit the trails.
Chiring speaks English.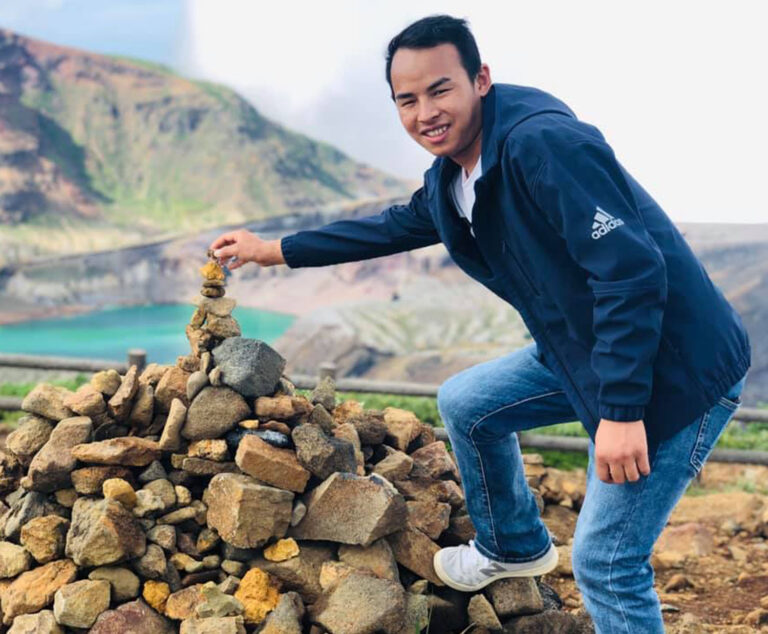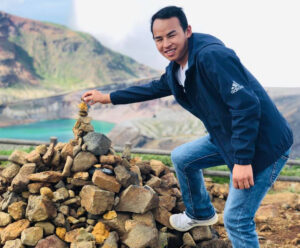 Gyali Sherpa : Trekking guide
Gyali was born in the Solukhumbu. He started his career at a young age. He is a valued trekking guide for Sherpa Heritage Trails because of his perfect language skills in English and Japanese. Gyali has studied and worked in Japan for 4 years and has a good knowledge of understanding Japanese culture. He loves to show you the beautiful trails in Nepal.
Gyali speaks Japanese and English